My mother collects rocks as travel souvenirs. My mother-in-law prefers acquires little teaspoons when she travels. My wife and daughter collect pressed pennies. I collect bumper stickers that I plaster on filing cabinets in my classroom, but I also seek out recipes as travel souvenirs.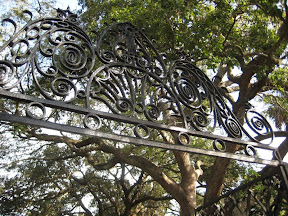 There's no better way to relive a trip than by gathering around the table to enjoy stories and flavors from past travels. Each time my family gathers at the table to enjoy a
meal of goulash and

knedliky
we're strolling down the streets of Prague without leaving Kansas.
While in Charleston, I
encountered
a lot of great food, so it was easy to pick some flavors that will help me conjure visions of the city's wrought iron fences, beautiful gardens, and eclectic architecture.
The following are five dishes that I'm going to attempt to replicate, so that I can get my Charleston fix without leaving the Sunflower State:
Bacon jam - I know this might seem like a misprint, but bacon jam is real. Go ahead and google it. At

McCrady's

I was served a small dollop of this jam with a roasted chicken. It's smokey, sweet flavor rocked my world. This is the recipe I'll be trying.




Caramelized pears: At

Slighly

North of Broad I ordered a salad that came with caramelized pears. The pears had a light candy coating on them à la creme

brulee

. I've already tried replicating this at home using the broiler in my oven, but I couldn't achieve the crunchy coating. I might need to buy a kitchen torch.


Creamed barley: At SNOB I had the sauteed flounder, and it was served on a bed of creamy barley. I liked the creamy texture and the crunch of the barley. It was more like a risotto.


Grits: Do I need to say more?



Hoppin

' John:

Hoppin

' John is a simple Southern dish consisting of rice and black-eyed peas. About eight years ago, I made this dish, but at the time I didn't know how to cook rice, so it turned out lumpy and

glumpy

. After eating this dish at

Poogan's

Porch, I'm ready to prepare it again. I like their

Hoppin

' John because it contained a tinge of heat to it.


BBQ Au

Jus

: My flounder at SNOB was also served with a bit of BBQ

au

jus

that paired well with the fish and barley. The

au

jus

was smokey, sweet, and salty. It's convinced me that I need to do more with sauces in my cooking.




keep on the sunny side,




muddywaters